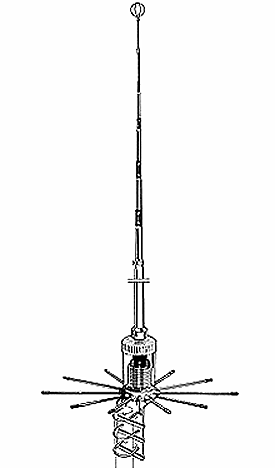 THE 5/8 WAVE VERTICAL
This type used by many, It has deserved a name on the DX-antenna list over the last years.
Often bought by those who have a 1/2 wave vertical but want to put more effort in the antenna system.
The radiation pattern is also a omni-directional one. It has somewhat higher gain then his smaller brother (the half wave vertical), actually it is 1,5dB stronger.!!!
And yes, this difference is "just" noticeable, but no way this will result in an one extra or several extra S-units.
The SWR can often be changed at the bottom of the antenna by changing the coil dimensions, you can easily change the SWR.
Other forms of "tuning" are those with changing the total antenna length by changing the top element, often you will not have to change anything since the manufacturer has put markings on the aluminum.
Some manufacturers would like to let you know that with something on top of the antenna (as you can see in the picture above) the antenna will work better this of course is also not true....but it looks nice.
And there are those who claim high gain. As said the 5/8 wave antenna has 1,5dBD NO more, no matter what type!

LONGER THEN A 5/8 WAVE
For us DXers it has no advantage of building or buying a vertical antenna with a longer length then about 7 meters.
The take-off angle will not be any lower and the longer antenna brings along more lobs in the antenna pattern
which are divided many times so they tend to be weaker.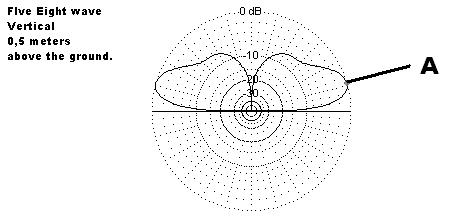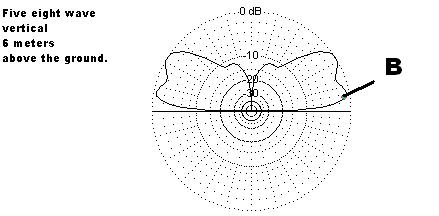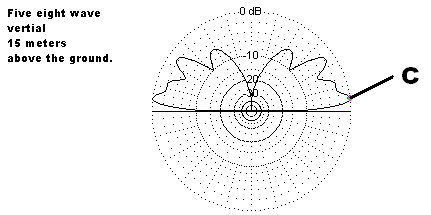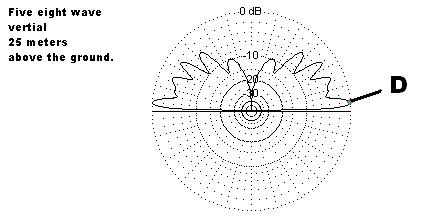 Above we see the pattern produced by a 5/8 wave antenna with a length just under 7 meters. When you compare this to a halve wave vertical you can notice there is only a slight difference, NOT that much though.
Looking at A the angle is again around the 16 degrees, the antenna is only situated 0,5 meters above the ground!
At B you can see that the take-off angle is very wide even the noticeable dip in the pattern is only 1 dB down to its strongest point! so this will suite you just fine for all DX.
With C (15 meters) and D (25 meters)we come in the lower take-off angles the
serious DX is found there. But the antenna is already up quite a bit and a small horizontal placed beam at these heights
will outperform the vertical almost anytime.